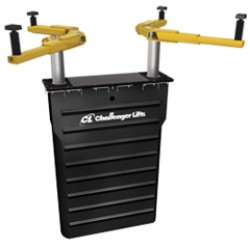 EV1520
Challenger is the exclusive manufacturer of the only 15,000 lb. capacity heavy duty inground lifts in the market. The EV1520 Heavy-Duty arms are engineered to lift heavier commercial vehicles and require less shop space than heavy-duty two post lifts, making the EV1520 inground lifts a great choice.
Features:
NEW larger 8 1/2" chrome diameter piston provides greater stability for inground lift.
Over 50% longer bearing contact than competitor heavy duty lifts and provides increased stability.
Mechanical lock engages every 3" provides safety and allows technician to work at their ergonomic height to increase productivity and minimizes fatigue.
Stainless Steel air lock release cylinder promotes longer working life with its corrosion resistant design.
Specifications