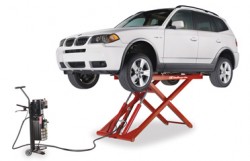 MR6
Challenger Lifts' Portable Mid-Rise Lift is a great way to increase the productivity in a shop. It's like having a service bay anywhere, indoors or out.
Features:
Electric motor mounted on tow dolly provides convenience and ease of maneuverability.
Sliding/rotating arm design reaches pick-up points on a wider range of vehicles.
Single push button power unit with release valve provides convenience when lifting and lowering vehicles.
Specifications