Samson Enclosed Hose Reels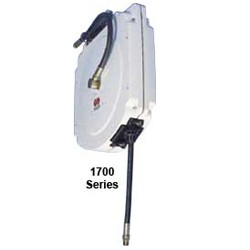 Sampson Samson Enclosed Hose Reels
Using modern materials and a unique design, the 507 hose reel eliminates all typical disadvantages of enclosed reels such as limited hose capacity, excessive weight, difficult maintenance, etc.
Features:
Exclusive design allows to efficiently handle up to 50' (15 m) of 1/2" hose.
Nickel protected shaft and swivel provide maximum fluid compatibility.
Shaft design has no threaded unions, eliminating the risk of leaks.
Specifications