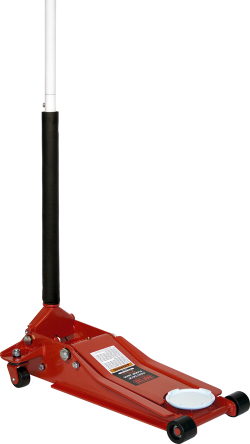 Norco Norco 71233
An economical floor jack designed for a variety of automotive shop uses where strength, speed, and dependability are required.
Specs/Features:
Covered by one year limited warranty.
Extremely low 2 ¾" low lift height.
Safety by-pass system protects pressure cylinder.
Safety overload system prevents jack from being used beyond its rated capacity.
Long two-piece handle for easy shipping and storage.
Foam Handle sleeve included to protect vehicles from damage.
Dual pump piston design raises the jack to maximum height in 8-1/2 pump strokes.
DIMENSIONS:
Low Lift Height 2.75"
High Lift Height 20"
Length 27.875"
Width 14.625"
Shipping Weight 92 lbs